Cornell's Big Red team outscores Berlin squad to win RoboCup finals
By Blaine P. Friedlander Jr.
For those still dejected about the United States' quarterfinal loss to Germany in World Cup soccer in South Korea last week, a team of Cornell students gained a measure of revenge on Sunday, June 23.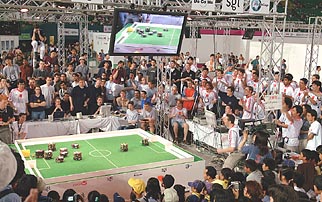 The Cornell Big Red team, at right, celebrates a goal by its robot soccer players in Sunday's RoboCup championship match against the Freie Universität (FU) Fighters from Berlin. The Cornell team won, 7-3, at the competition in Fukuoka, Japan.
Photo courtesy of SGI
Cornell's Big Red team beat the Freie Universität (FU) Fighters from Berlin, 7-3, at the 2002 RoboCup small-size robot soccer league championship in Fukuoka, Japan. It was Cornell's third championship win in the competition in the past four years.
On its way to this year's title, Cornell routed the University of Melbourne, Australia, 10-0, in the RoboCup semifinals June 22. FU Fighters beat Ngee Ann Polytechnic Luckystar, of Singapore, 3-2, to reach the finals.
In Sweden in 1999, Cornell entered the competition for the first time, and the Big Red won its first RoboCup championship by beating Freie Universität,15-0, in a finals match broadcast live on Swedish national television. The following year, Cornell again beat the FU Fighters. Last year Cornell lost to the Singapore Polytechnic Field Rangers and earned a third-place finish.
The international robotics event, officially called the Robot World Cup Initiative, but familiarly known as RoboCup, is a competition among about 190 universities and technical schools from all over the world with their teams of tiny but incredibly smart robots. RoboCup was created to foster research in robotics and artificial intelligence. Competitors must design robots that will operate as a team, as well as build vision systems to enable the robots to detect the ball and distinguish between their own players and their opponents. The robots must also be able to decide on the best moves to put the ball into the other team's goal.
A team consists of five robots, communicating with a "mother" computer and with each other by radio. A video camera surveying the playing field tells the central computer where the players and the ball -- a golf ball -- are located. Individual robots also can have on-board sensors. Once programmed, the robotic system is completely on its own, with no human control.
The Big Red team's faculty adviser is Raffaello D'Andrea, Cornell associate professor of engineering. The human members of Cornell's world champion team, all students, are: The human members of Cornell's world champion team are:
Computer Algorithms: Michael Babish, Joseph Cappelluti, Joel Chestnutt, Andrew Chung, Evan Kuhn, Akosua Prakah Kyereme-Tuah, Chee Yong Lee, Nirav Shah, Christian Siagian, Joran Siu, Will Stokes, Zennard Sun*, Ying Yu Tan*, Justin V. Wick, David Wu, Remik Ziemlinski.
Electrical Design:, Aman Chawla*, Tom (Liang-Yu) Chi, Wajih Effendi, Michael Jordan, Sinman Katherine Ko, Shahab Ahmed Najmi. Chirag M. Patel*, Michael Schwaller.
Mechanical Design, Akbar Dhanaliwala, Sewan Kim, Jie Dong Leou, Jeremy Miller, Brett Nadler, Eryk Brian Nice, Sean R. Richardso, Ken Sterk, Kenneth Kwok Wei Chan, Eng Beng Toh.
Dynamics, Systems and Control:, Raffaello D'Andrea, Myungsoo Jun, Jin-Woo Lee, Evan Malone, Tamás Kalmár-Nagy.
The highly successful U.S. World Cup soccer team also benefited from Cornell direction -- Cornellian Bruce Arena '73 served as the U.S. team's coach, and Dave Sarachan '76 was the assistant coach.
June 27, 2002
| Cornell Chronicle Front Page | | Table of Contents | | Cornell News Service Home Page |