USC Neuroscience Program: HNB-13b Eye Tracker Home Page
The USC Neuroscience Graduate Program (NGP) owns a human video-based eye-tracking system, installed in the Hedco Neuroscience Building, room HNB-13b. The eye-tracker is an ISCAN 240Hz video-based machine: an infrared light source illuminates the subject's right eye, and a high-speed video camera records a close-up movie of the eye; two features are tracked in real-time on the video sequence: the outline of the pupil and the specular reflection of the light source onto the cornea. The camera is mounted onto a motorized precision pan/tilt head so that optimal viewpoint can be easily obtained for every subject. This setup allows the controlling computer to compute the (x, y) coordinates of the point of fixation, but with those coordinates being in some referential that is linked to the eye camera. To obtain eye coordinates relative to the referential of the stimulus being shown to the subject, a calibration procedure is used to establish a mapping between stimulus referential and camera referential.

| | |
| --- | --- |
| | |
| Control Computer | Eye Camera |
Resources
| | |
| --- | --- |
| | The Eye Tracking message boards on the iLab Forum are where all public discussion around the NGP eye tracker project is happening. |
| | The HNB-13b Room Calendar is where you can view room occupation and reserve time for your experiments. |
| | A quick user guide will help you get started! |
The Setup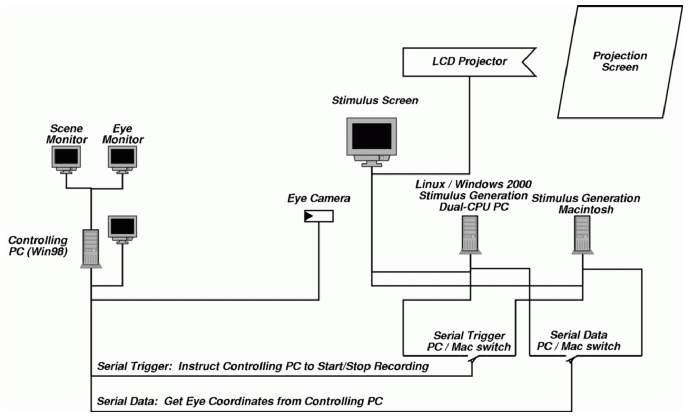 Our setup allows for the following:
Stimulus generation on a dual-CPU PC (Linux Mandrake or Windows 2000) or on a Mac (OS 9);
Stimulus presentation on a high-quality 22in CRT screen or high-quality 1280x1024, 3000-lumen LCD projector;
Separate operator setup and control using the controlling PC and its associated control knobs (camera pan/tilt, iris, shutter, etc.) and monitors (stimulus/scene monitor, eye monitor, control software monitor);
Manual recording from the controlling PC, or remote start/stop trigger from the stimulus generation PC or Mac through a serial trigger connection;
Local recording onto the hard disk of the controlling PC, or serial real-time data streaming to the stimulus generation PC or Mac;
Any combination of the above is allowed (e.g., trigger from the Mac being displayed onto the 22in CRT while streaming data to the stimulus generation PC connected to the LCD projector).
HNB-13b Eye-Tracker Room Schedule
Room reservations are on a first-come, first-served basis, with all reservations being made online using the calendar below. Please do not abuse and make sure that there is time for everybody to run their respective experiments. If you have posted extensive room reservations are are not present at any time during your reserved slots, you will be in trouble! Please include your email address in the reservation comments so that people can get in touch with you if any reservation conflicts arise.
To obtain a password that will allow you to post reservations onto the room's calendar, please contact Laurent Itti (itti@pollux.usc.edu). To obtain a key to room HNB-13b, please contact the Hedco Neuroscience Building front desk.
---
Copyright © 2003 by the University of Southern California, iLab and Prof. Laurent Itti