media::dummy_sound_rep Class Reference
dummy_sound_rep
is a stub implementation of the
sound_rep
interface.
More...
#include <media/dummysound.h>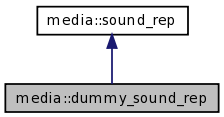 [legend]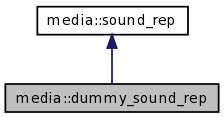 [legend]



Public Member Functions

dummy_sound_rep (const char *filename=0)
Construct from a sound file (but all we do is see if the file exists).

virtual void
play ()
Play the sound (but this is a no-op for DummySound).




Static Protected Member Functions

static void
check_filename (const char *filename)
Checks that the filename points to a readable file.

---
Detailed Description
dummy_sound_rep
is a stub implementation of the
sound_rep
interface.
Definition at line 44 of file dummysound.h.
---
Member Function Documentation
| | | | | | |
| --- | --- | --- | --- | --- | --- |
| void media::sound_rep::check_filename | ( | const char * | filename | ) | [static, protected, inherited] |
---
The documentation for this class was generated from the following file: